Stan Fox remembered with memorial bench on trail
By Deb Patterson, Staff Writer, Mail Journal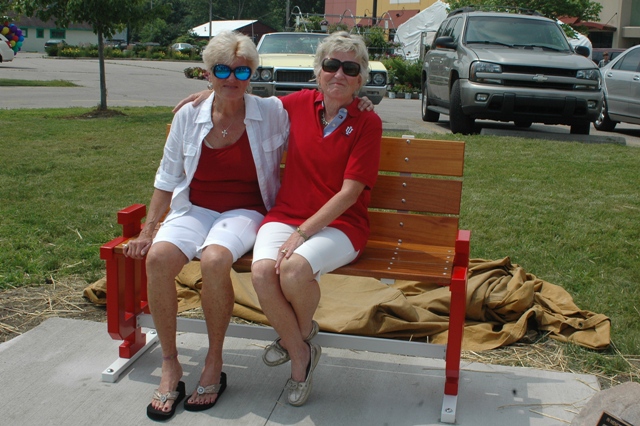 The first to use the bench were Fox's widow Becky, left, and his sister, Sally Springer, Syracuse.A plaque is also at the site. (Photo by Deb Patterson)
Indiana University Red was everywhere at the southwest intersection of Pickwick Drive and Huntington Street in Syracuse on Saturday. Friends and family of the late Stan Fox gathered for a special occasion.
A dedication of a bench, almost one-year to the minute of the passing of Fox was held. A specially made bench with the IU emblem as its legs and shiny wood making up the bench and back was unveiled to the surprise of Fox's widow, Becky.
The location is also part of the local trail project.
A stone placed in the cement has a plaque which states "In Memory of Stan A. Fox a loyal friend of our lakes community and the ultimate Indiana University Fan." It notes the bench and marker were donated by GNO and Todd Realty Inc.
The idea was that of the couple's co-workers at Todd Realty and a group of women who dubbed themselves Girls Night Out, which Becky belongs to. The two groups wanted a way to remember Fox.
Those who knew him, know he was a loyal friend to the lake, community and especially IU. He had plans to ride his bike on the new trails.
With approval of the Syracuse-Wawasee Trail Committee, a special bench was commissioned and made by two friends. "It's a place people (family and friends) can come and remember the fun times with Stan," stated Susan Todd, who added it's location is "between the two lakes and Todd Realty," where he spent a lot of his time.
Bill Coon was the master craftsman on the project.
The short gathering was ended by what else but the IU fight song.