Syracuse-Wawasee Trails Have Come a Long Way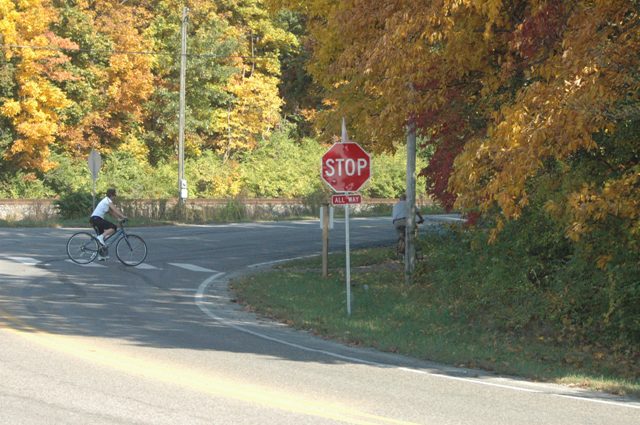 Photos and article by Lauren Zeugner – Staff Writer – The Mail Journal
It was in the fall of 2003 a small group of the community met at the Syracuse Community Center to discuss the possibility of creating a bicycle/pedestrian trail system around Syracuse and Wawasee lakes. The group was inspired by a section of trail laid down by Peter Nicholas on Eli Lilly Road.
The idea was to make biking and walking safer, as well as provide another connection for the community.
The committee has been extremely fluid with a very dedicated core group working hard to complete a trail system. To date, the committee has managed to win grant money from local organizations such as the Harkless Foundation, K21 Foundation and the Eli Lilly Foundation as well as community donations to build the trail. None of the trail has been funded through tax dollars.
In eight years, the committee has been able to partner with the Town of Syracuse to have sidewalks for walkers and bikers to use throughout downtown; install a path, complete with a boardwalk bridge along Pickwick Drive; and recently installed a bridge over McConnell Ditch, seen as a challenge since the beginning of the project.
Syracuse-Wawasee Trail Committee has also partnered with Wawasee Property Owners Association, which has held several fundraisers for the trail project; Wawasee Area Conservancy Foundation, which worked with the committee on installing trail around Mudd Lake and is currently working with the committee on installing a trail segment on its property near SR 13; and Wawasee Kiwanis Club, which has overseen several clean-up operations on the trail and has adopted a section.
Within the community, families have adopted sections of the trail, going out and picking up trash that gets blown or thrown on it by passersby.
Next spring, the Syracuse-Wawasee Trail Committee plans to install sidewalk in front of nine more properties along Eastshore Drive and finish the connector along Cornelius to Warner Road and then Eli Lilly hooking up with the Nicholas segment.
Interest around Lake Wawasee has been growing as residents have been asking committee members when they can expect to see trail in their neighborhood. Once trail around Syracuse Lake and the connector is complete, the committee will turn its attention to Lake Wawasee, hopefully by next summer.
The committee is looking for new volunteers to bring ideas to the table regarding the trail. Syracuse-Wawasee Trail Committee meets at 6:30 p.m. the fourth Thursday of the month at the Syracuse Community Center.
For more information call (574) 457-3440 or visit www.syracusewawaseetrails.com for more information.